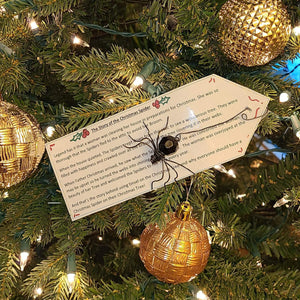 The Legend of the Christmas Spider begins with a woman cleaning her home in preparation for Christmas. She was so thorough that the Spiders fled to the attic to avoid her broom.
When the house quieted, the Spiders crept down from the attic to behold a wonderous Tree. They were so filled with happiness, they crawled all over the branches covering it in their webs.
When Father Christmas arrived he saw what the Spiders had done. He was concerned the woman might be upset so he turned the webs into shining strands of silver.
The woman was overjoyed at the beauty of her Tree and welcomed the Spiders to her Tree every year after.
And that's the story behind the use of tinsel on our Trees & everyone should have a Christmas Spider on their Tree! ❤
Shipping Extra. Free Edmonton Pick up.